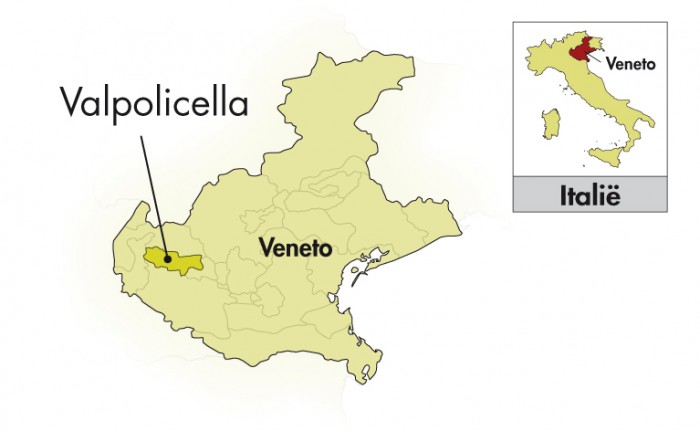 It's rare for me to do a story on a single wine. But recently my wife and I enjoyed the 2009 Accordini Ripasso Valpolicella and she pronounced it "the best Italian wine I've ever had." So clearly a post was required!
I've written previously about some Ripassos that were good wines and also good values. Per the graphic above, Valpolicella is a Denomizazione di Orgine Controllata (DOC) outside of Verona, Italy. A blend of three varietals with the majority being the Corvina grape, Valpolicella can be made three different ways — Valpolicella, Ripasso (Valpolicella that is run over partially dried grape skin remnants) or Amarone (grapes are dried before pressing). The wines range from light and fruity to very strong and tannic.
The Accordini is a great Ripasso. Here's more background and detail from the review from Calvert Woodley's Ben Giliberti:
Michael and I dubbed this wine "Baby Amarone." Amarone is an arrestingly powerful red wine made only in the Valpolicella zone from hand selected, late-harvest grapes dried on special racks for several months after harvest (passito method). It is rightly considered one of Italy's greatest red wines. However, at $50-$80 or more, it also ranks among the country's most expensive luxury wines, due to its rarity and the high costs of the traditional passito production method.

Accordini's Ripasso Valpolicella, which is made by a clever variant of passito called ripasso (hence the name), is shockingly similar to an Amarone, which we discovered to our amazement when we tasted it right alongside Accordini's monumental Amarone Le Bessole ($68). While the latter wine clearly has greater scale and aging potential, with more tannins and structure, the overall impression of power, density and depth was quite similar, a very impressive showing for a wine that costs one-third as much. In fact, Accordini's Ripasso Valpolicella could easily pass for a $60 Amarone made by many of the region's other fine producers — at one-third the price.
Shockingly similar to a wine three times the price — that's right up my alley! The wine has a lightish body and a supple mouth feel. Dried cherries immediately present themselves, along with a very distinct taste of vanilla. There is a big finish on the palate, lots of flavor and some heat on a finish that lingers.
Take it from my wife. This is a wine to serve to anyone who thinks they don't like Italian wine. Calvert Woodley is selling this wine for $22, and I believe Total Wine carries it as well. Get some while you can.