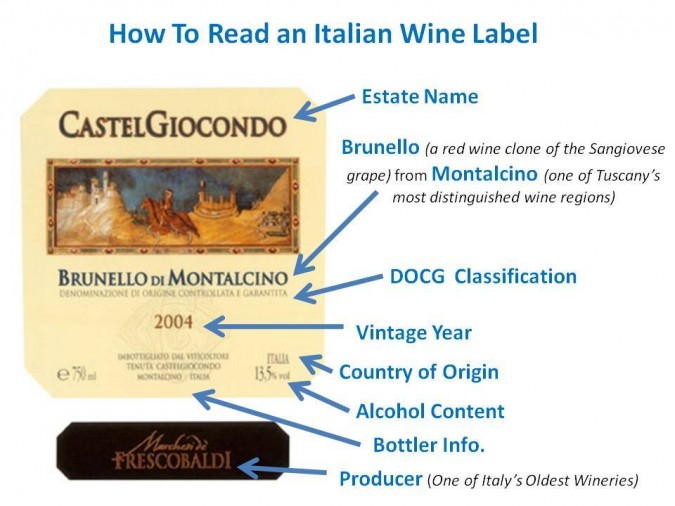 I last wrote about Italian wine for my April WashingtonExec column.  Since then I've enjoyed some new Italian red winners that I talk about below.
I wrote in April about how Italian wine can be hard to decipher. I hope the deconstructed label above is helpful next time you're deciding on bringing an Italian wine home with you.
Recently I've had two excellent Valpolicella wines. Valpolicella is a Denomizazione di Orgine Controllata (DOC), an officially recognized wine zone in the province of Verona, Italy. It's a blended wine made from three varietals, led by the Corvina grape.
This same blend can be made three different ways — Valpolicella, Ripasso (Valpolicella that is run over partially dried grape skin remnants) or Amarone (grapes are dried before pressing). The wines can range from light and fruity to very strong and tannic.
Gabriele and I enjoyed a 2010 Mazzi Valpolicella Classico Superiore with dinner at Geranio in Alexandria. Superiore designates the wine was aged for at least a year. It had a light body and bright cherry fruit. It had a nice acidity which typically make Valpolicellas good food wines, with a bit of pepper on the finish. You should be able to find it for under $20.
Another fine example was the 2010 Degani Cicilio Valpolicella Ripasso. This wine starts with a very bold nose that belies its light body. Cherry fruit again leads but its very integrated, not fruit forward at all. There was a smoothness to the wine despite some different elements going on. Also should retail for about $20.
I'll finish today with a satisfying Super Tuscan – a combination of Sangiovese and Cabernet Sauvignon. It was the 2008 Terrabianca Campaccio IGT we enjoyed with dinner at the Curious Grape in Arlington last month. It was bold and juicy, without sacrificing balance. Lots of black raspberry with a hint of leather and bitter chocolate. I picked this out of the Curious Grape wine store to have with dinner and Gabriele really liked it. Should retail for around $30.
If Italian wines aren't usually on your list, give any of these a try. I think you'll be glad you did.