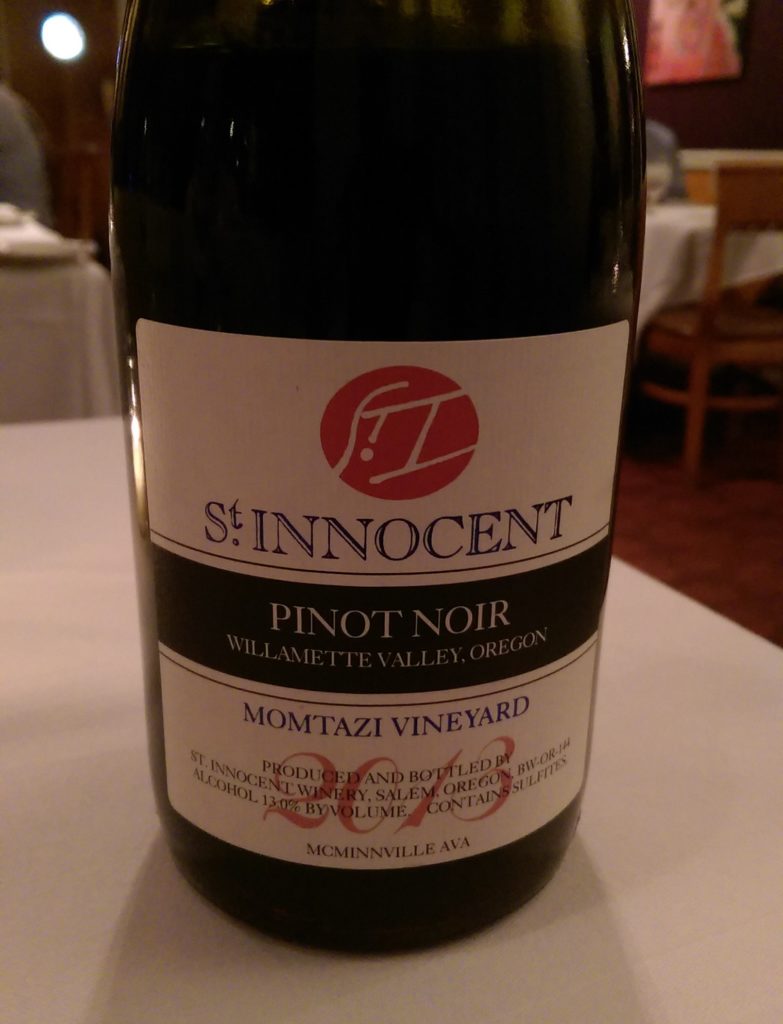 Gabriele and I are just back from a week in Durham, NC. We rented a house through Airbnb in a laid back neighborhood not far from the campus of Duke University. It was a fun week, and we enjoyed some new wines while we were there.
Hands down the best meal we had was at a place called Nana's. The food was fantastic. We had veal ragout over noodles and mussels for appetizers, grouper and halibut for entrees. Everything was prepared perfectly. The wine list was good, we were looking for a nice Pinot Noir. Our waitress sent over someone who knew more about wine – something I always appreciate.
Server Adam recommended the 2013 St. Innocent Momtazi Vineyard Pinot. From the Willamette valley in Oregon, the wine was light, elegant and delicious. It had a beautiful bouquet that was bigger than the wine, clean raspberry fruit and a subtle finish with hints of spice and cola. It was a gorgeous wine that complemented the meal perfectly.
Another Pinot Noir we enjoyed was the Patz and Hall 2013 Sonoma Coast. This was a bigger Pinot, with a rounder mouth feel and vibrant fruit. This wine still tasted like a Pinot however, not the newer, huge style of California Pinots. It has a clean finish and retails for around $40, as does the St. Innocent.
For a nice Cabernet Sauvignon, we went with the 2014 Honig Napa Valley. It's mostly Cab with small amounts of Petit Verdot, Cab Franc and Merlot. It offers lots of smoke, cassis and cocoa on the palate. It was big and rich without being heavy or over the top, just a really good legit Cab. We found it for $40 at a local shop.
Honorable mentions for other meals include Foster's Market for breakfast, JuJu restaurant and The Q Shack for delicious barbeque. There definitely were options for any taste, and Raleigh is an easy drive away for more choices.
You won't go wrong with Durham, or any of these wines. Happy fall, and good drinking!
Other stories you might like:
Sonoma Wine Finds When I published my WashingtonExec column on Sonoma, I gave an overview of our trip....
Vacation Wine Finds Last week Gabriele and I enjoyed a get away from the daily hustle and bustle....
Shenandoah Food and Wine Finds For the past couple of years Gabriele and I have rented a cabin in the...