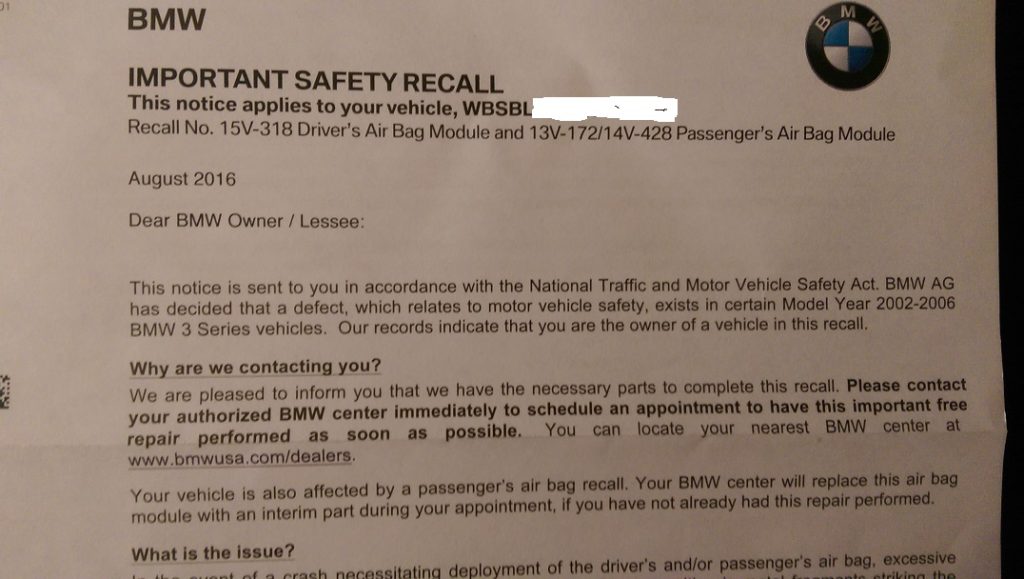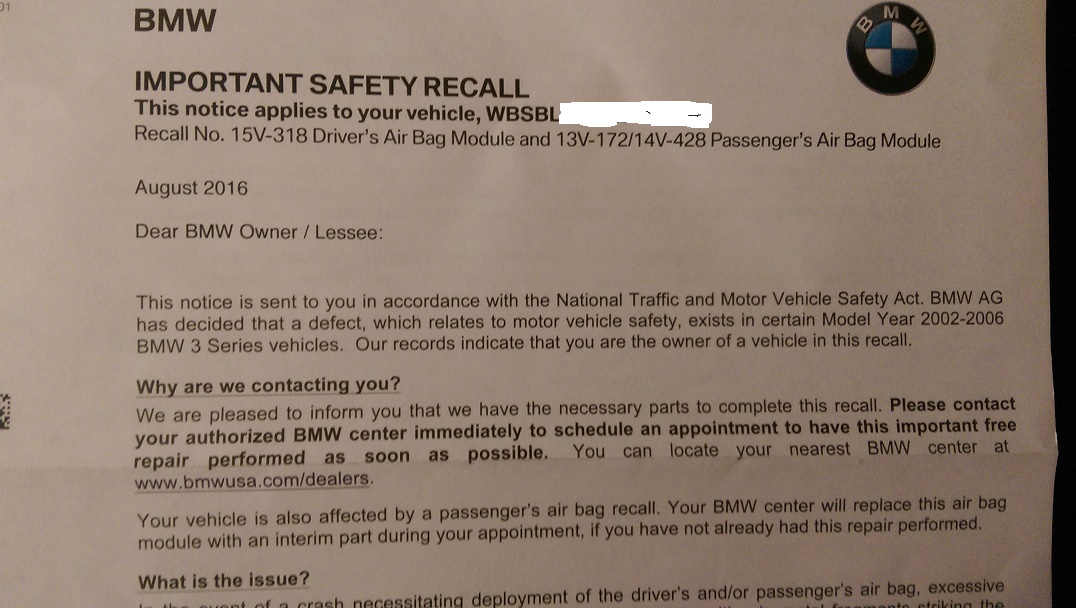 Last Friday I received my official BMW air bag recall letter for my E46 M3. Both the driver and passenger air bags are subject to the massive Takata air bag recall, which has been going on for almost two years. Over 60 million air bags have been found defective and need to be replaced. It's become the largest recall in American history.
If you haven't been following the story, here's a very comprehensive site with all the details from Consumer Reports. In some crashes, the air bag inflator housing ruptures, spraying pieces of metal throughout the car. I've been putting off dealing with this, figuring no point getting agitated about it until BMW had the parts to remedy the  solution. Also, BMW initially said the recall only applied to the passenger side air bag, which made no sense to me.
To date there have been 11 documented deaths and over 150 injuries, and about 8.5 million air bags have been replaced. The fix is projected to take another two years or more. You can look up your vehicle on the site to see if it is affected.
Consumer Reports does try to put the risk into context:
As awful as they are, such incidents are very rare. In June of 2015, Takata stated that it was aware of 88 ruptures in total: 67 on the driver's side and 21 on the passenger's side out of what it calculated was just over 1.2 million airbag deployments spread over 15 years. Despite these figures, airbags in general are not a danger. The Department of Transportation estimates that between 1987 and 2012, frontal airbags have saved 37,000 lives.
However, Takata shared testing data with the National Highway Traffic Safety Administration (NHTSA) over the past two years that indicated a higher rate of failure:
Between November, 2014 and May, 2015, Takata reported to NHTSA that the company had conducted more than 30,000 ballistic tests on airbag inflators returned pursuant to the recalls. In those tests, 265 ruptured. That is an unacceptably high number, and, at 0.8 percent, a far higher frequency than what has been seen so far in vehicles on the road.
Since Takata has such a dominant market share for making air bags, all auto makers have been struggling to get replacement parts to replace the defective parts. BMW has been working with an alternate provider for air bag inflators, but those also failed too frequently in testing. So NHTSA gave BMW a five month extension to hit a target number of replacements, according to Automotive News. The initial focus is on cars older that 2008 and operated in hot climates.
Unfortunately, that describes my 2006 M3. The original owner lived in Florida. It's not comforting to be in what NHTSA considers the highest risk group. The Auto News article also explained something a little confusing in the BMW air bag letter. BMW is telling me they will provide a "final remedy" for the driver air bag problem, while the passenger side will be replaced with an "interim part."
What that translates to is that they are going to put another potentially defective Takata inflator for the passenger side, since there is still no functional replacement. The assumption is that a new one should be less of a risk than a 10 year old part, and when the final version is ready I'll have to bring the car in again.
I'm going to ask some fellow owners where they have taken their cars for this work. The most likely candidates are BMW of Fairfax or BMW of Alexandria. I'll update this post with how that experience goes.
And soon I'll be receiving another BMW air bag letter. The same type of Takata air bags are also in my 2002 M5.