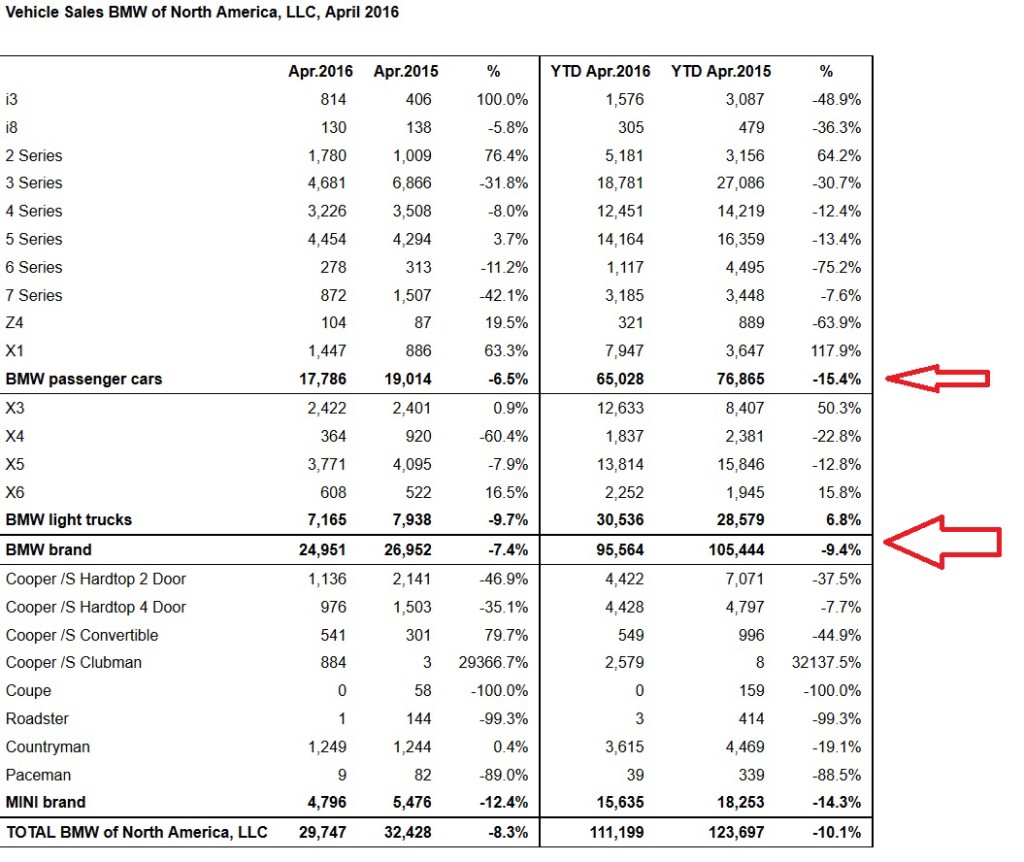 2016 BMW sales are out for April, and it's been a tough start to the year for BMW in North America. Overall new sales are down 9.4 percent, with passenger cars down 15.4 percent. An article from The Truth About Cars reports swollen inventories at U.S. BMW dealerships.
As usual, looking at BMW's high volume models tells the general story. The 3-Series is down over 30 percent, and the 5-Series 13.4. Last year booming truck sales supported overall sales, and through April trucks are up 6.8 percent, led by a strong 50.3 percent increase YTD for the X3.
But the X5 is down 12.8 percent, and the increase in overall truck sales wasn't enough to offset the overall decline.  In fact, if BMW didn't classify its smallest crossover, the X1, as a car the car vs. truck comparison would be far worse. The new F48 model X1, with a transverse engine and platform borrowed from Mini, was up an amazing 117.9 percent.
There are some macro trends affecting 2016 BMW sales in North America (worldwide BMW total sales are up 5.9 percent). One is that Americans continue to be seduced by SUV style vehicles, increasingly preferring them over traditional vehicle styles. Here are Q1 totals for all the major brands.
To be fair, both 2014 and 2105 were record years for BMW sales. Overall luxury sales in the U.S. are down this year, though BMW's main competitors aren't down as much. Through the first quarter, Mercedes sales are down 2.2 percent and Lexus sales are down 3.8. Audi sells fewer vehicles than the top three, but has seen sales increase by 4.6 percent.
On the used (pre-owned in auto parlance) side of things, the picture is much different. Sales of BMW Certified Pre-Owned (CPO, an inspected and refurbished used car that comes with an extension of the new car warranty), vehicles set an April record with 11,276 sold, an increase of 7.8 percent over April 2015.  Total BMW pre-owned sales were up 19.2 percent April to April, and 5.3 percent YTD.
That makes me wonder if price is increasingly a factor. I wrote in late 2014 about the average sales transaction for the luxury brands, and BMW's $52,000 is 20,000 higher than the U.S. new vehicle average. Of course the growing percentage of leases offsets that to some degree, but can BMW justify a  premium like it once could? There is also intense competition in the U.S. market, and with wages mostly stagnant perhaps a static or constricting pool of buyers.
With some notable exceptions like the new M2, most new BMWs do not handle and perform demonstrably better than competing brands. (Just do a search on "Has BMW Lost Its Way" to read the automotive press on this topic.) That performance edge used to offset the premium cost, stingy options and well-earned reputation for requiring more maintenance than other cars. If BMW is no longer "the ultimate driving machine," what's left besides a supposed premium brand experience?
On the other hand, maybe that's not what's happening at all. Maybe what's really needed are new renditions of the 3-Series and the 5-Series. The latest X5 came out in 2014, so a truck model BMW really depends on for sales volume won't be changing much for a few years. The new 2017 5-Series might be out before the end of the year, with Car and Driver saying BMW has a lot riding on getting it right. The next 3-Series will be a 2018 model.
Has there been a change in how the general public perceives BMWs in this market? How 2016 BMW sales perform over the rest of the calendar year might provide an answer to that question.
UPDATE: BMW May sales were down 6.4 percent. Mercedes Benz was down 1 percent, Lexus down 9.6, and Audi up 1.6 percent.
UPDATE II: BMW June sales in the U.S. were down 10.3 percent, and 9 percent YTD at the midway point of 2016. June was the first month this year BMW outsold Mercedes Benz, with M-B still in the lead for 2016.
Here's an update on the U.S. luxury car race, via Bloomberg: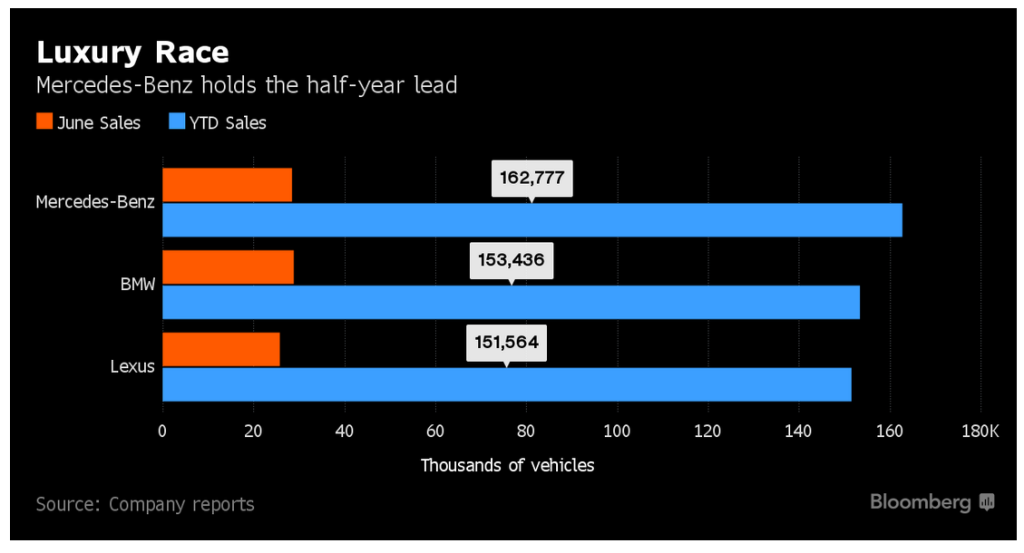 UPDATE 8/4: July BMW U.S. sales were down 4.4 percent. M-B was up 3.6 percent, Lexus down 6.5 percent.
For 2016 overall M-B is almost even at down .6 percent, Lexus down 4.9 and BMW down 8.4 percent. While still well out of the top three in volume, Audi is up 3.6 percent with 115,298 vehicles sold to date.
UPDATE 11/2: Rough October for BMW, sales down 18 percent month to month and 2016 BMW sales down 9 percent overall. Car sales are down 13.6 percent this year as Americans increasingly want crossovers and SUVs. Trucks up 2.3 percent for the year, not enough to compensate.
M-B down only 0.4 percent for 2016 through October, with Lexus down 4.7.
UPDATE 12/2: November down 18.2 percent month to month, with new cars down an incredible 26.9 percent. Used car sales, CPO and otherwise, are up 25.4 percent year to year. Overall 2016 new sales are 10 percent down, and Americans flight to SUVs accelerates.
Updating the race for the U.S. luxury crown, Mercedes 2016 sales are almost flat year to year at .2 percent up. Lexus is down 4.3 percent for 2016, and Audi is up 2.9, but with a lot fewer vehicles than the big three.