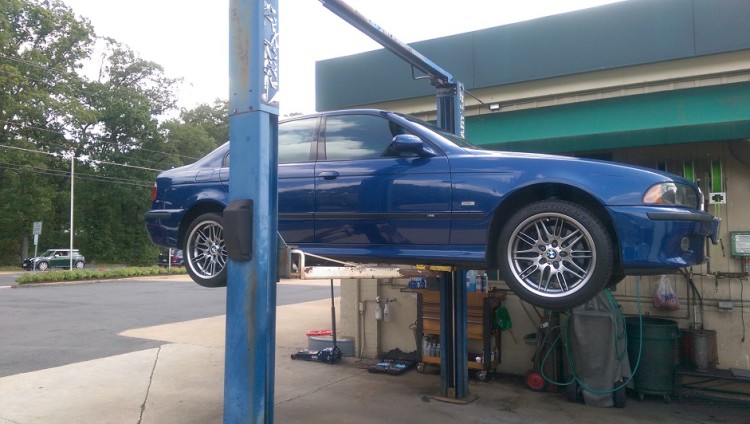 This Labor Day weekend I devoted some time to my 2002 E39 M5. I changed the oil, the cabin air filters and I gave the car a general checkup.
I'm fortunate to have access to a lift, and took advantage of that to inspect the suspension and other areas under the car. Bavarian Auto has an excellent three part video that tells you exactly what to look for — here's one of the episodes:
Thankfully the M5 looks to be in great shape. There was no play in any of the suspension  areas  as described in the video. A previous owner installed a Bilstein PSS9 coilover suspension about 10,000 miles prior to me purchasing the car in 2011, so I expected those parts to be in good order. I have also replaced both the front and the rear control arms.
As BMWs age there is a list of maintenance items you need to keep track of to keep your car performing as it should. Well-known BMW tech advisor Mike Miller has compiled a list of such items in his Lifetime maintenance schedule. It's another valuable and free resource available to anyone who emails Mike — click here to request your copy.
The car now has just over 90,000 miles, and its reassuring that it passed this checkup with flying colors. It's even better being able to determine that for myself, using online resources like the BavAuto videos.
Other stories you might like:
E36 M3 Checkup This weekend I gave my 1999 M3 a thorough checkup. The car is running great...
E39 M5 Summer Checkup This past weekend I gave my 2002 E39 M5 a thorough inspection. I also changed...
E46 M3 Spring Checkup Late last year I purchased a 2006 E46 M3. It was maintained extremely well, but...