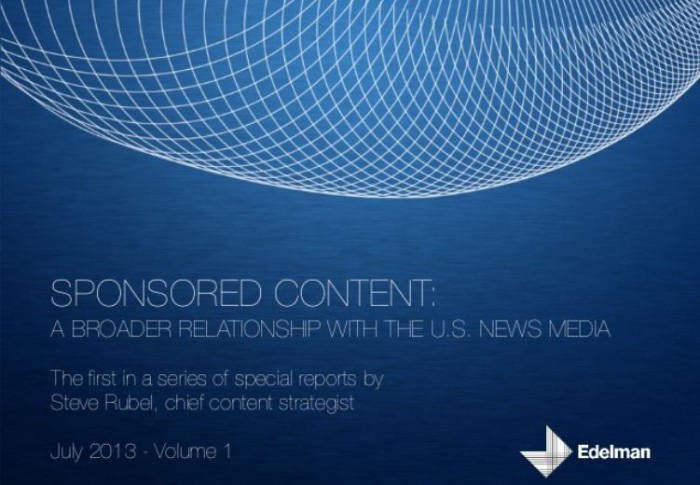 Sponsored content is a major and often controversial trend in online publishing. Traditional revenue streams have been greatly reduced, and publishers are looking for ways to make publishing make money online. Last month the PR firm Edelman published a study and some suggested guidelines for sponsored content.
Sponsored content differs from content marketing, which is the topic I usually write about here. At the most fundamental level, I consult with client to become their own publisher, and go around the media filter. Sponsored content is advertising in existing outlets, taking new forms to adapt to a new digital reality. I'm rooting for online publishing to discover new revenue streams, and recently wrote about convincing readers to pay for quality content.
Until someone figures out a convenient mechanism for micropayments, having consumers pay for online content will be a tough sell. Sponsored content sounds logical, as long as things are transparent. With something new, part of the challenge is simply definition. Edelman defines three types of sponsored content:
Paid Syndication – sponsor content appears within the news/editorial section of a publication;
Paid Integration — content is "weaved into a narrative, sometimes overtly." Clearly the trickiest from a transparency perspective — Edelman compares paid integration to a TV product placement;
Co-Creation — an advertiser funds a new site or section and may or may not have direct editorial involvement. Some of the federal vertical trades are experimenting with this model.
See below for the full Edelman report. While there is certainly a self promotional element in this report for Edelman, sponsored content is an important trend that isn't going away. It's smart for Edelman to explore and stake out some positions early on.