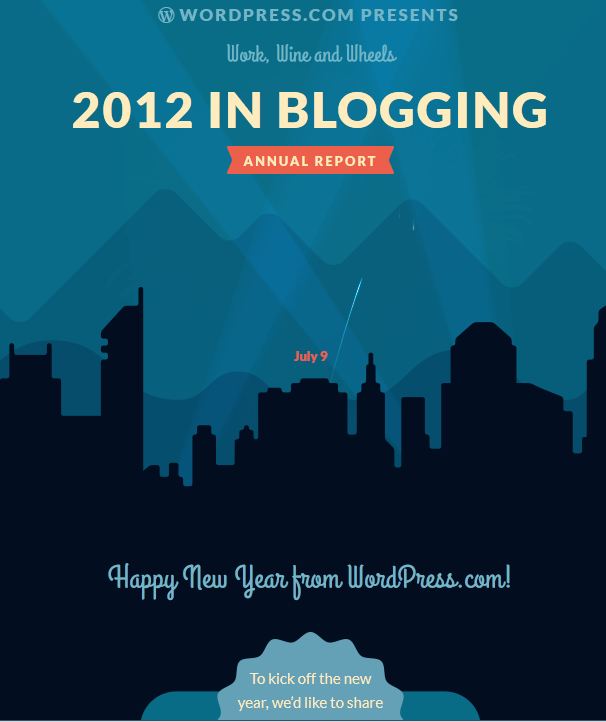 Merry New Year to all! Yesterday I received what will be my last WordPress.com annual traffic report, since I moved this site to chrisparente.com in early October of this year.
It's a good looking report and a nice little extra for wp.com bloggers — here's my story on my 2011 report. According to WordPress I received over 28,000 visits in 2011.
The report this year showed traffic growth continued to accelerate, which is of course nice to see. As of the early October cut-off, my site had been visited more than 41,000 times. The report also highlights the incredible day last March when my single day traffic number was set at 1,864 visits. This explosion was due to Lifehacker.com, a site in the Gawker network with hundreds of thousands of visitors, mentioning one of my stories about my E39 M5.
Unfortunately, I can't share the live report link this year due to the 301 Redirect I purchased from WP. (This makes sure that any visit to cparente.wordpress.com link gets redirected immediately to chrisparente.com, and preserves the impressive organic SEO many of my stories have achieved.)
I turned the redirect off briefly to snip some screen shots, which I've pasted here. While I won't get this report from WP anymore, my analytics are much enhanced now that I've moved my content to my own domain. I'm currently using a combination of Google Analytics, StatCounter and WP Stats (via JetPack Lite) to better understand my audience.
I hope 2013 brings you much happiness and success.
Don't miss a story in 2013 – signup for direct delivery below.