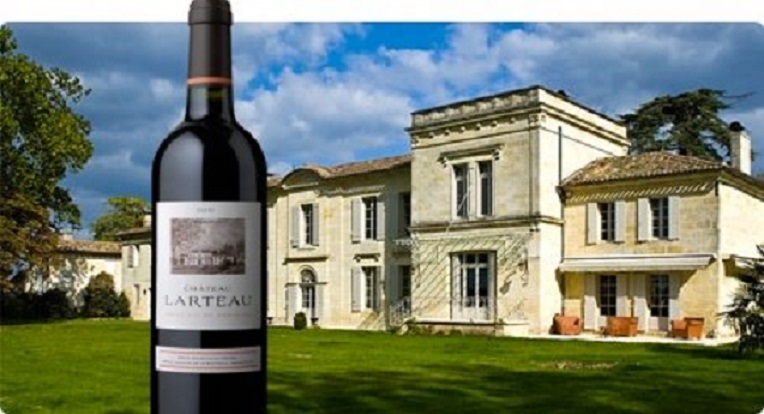 I've written previously on this site about the challenge of finding affordable Bordeaux wine. The wines are out there, but the average wine drinker needs help deciphering which ones deliver good value. Fortunately, the metro DMV area has a number of excellent wine stores that can help.
I've written previously about Calvert Woodley in DC, and this time a great tip came from Arrowine in Arlington. They sent out an email extolling the qualities of the 2010 Chateau Larteau Bordeaux Superior. This Bordeaux was very enjoyable and priced at $17 on sale, less if you bought six bottles or more.
The Bordeaux Superior is important here. That's not a prestigious Bordeaux designation, but this wine is made just across the Dordogne river from the well-known and respected St. Emilion region. It's made the same way, from the same grapes and by a wine maker who also makes St. Emilion Bordeaux. Per Arrowine:
The wine has it all. But it's not grown in the prestigious appellations of Saint Emilion, Pomerol or Fronsac. It's grown just across the river in the excellent Arveyres section of Entre-Deux-Mers. It means that under French wine laws, regardless of the great viticulture and winemaking and the great quality of the wine, the label can say only "Bordeaux Superieur". If the label said "Saint Emilion Grand Cru" a wine this good would cost triple. This one costs just $19.99.
That's making terroir work for your wine budget. In the past I've done something exactly like this with Chateauneuf-du-Pape. You can often find a Lirac wine, produced directly adjacent to C-N-P, that is as good for less money since it doesn't carry the more familiar, prestigious name. It's also similar to the concept of a second label, which can also deliver a high quality wine at a lower price. Examples closer to home would be Duckhorn – Decoy, Stags Leap – Hawkcrest, Martin Ray – Courtney Benham.
The 2010 Larteau has nice upfront fruit and a clean finish with not a lot of earth. It is 100% Merlot and has a substantial feel on the palate, very ripe tasting for a Bordeaux. But it also has enough acidity and touch of tannins to prevent it from feeling over the top full and fleshy. A really strong representation of affordable Bordeaux – it does exist, you just have to work a little harder.
I've been neglecting the Wine category a bit recently. Here's a list of some other new favorites:
Accordini 2009 Ripasso – found an excellent Ripasso at Total Wine. Beautiful fruit, nice balance and medium body. Clean finish with a hint of raisin and an oaky sweetness. Sure-fire hit for anyone who thinks they don't like Italian wine. Total sells for $25, less with one of their coupons.
Avenel 2013 Cabernet – this is a beautiful representation of California Cabernet. We've enjoyed their red blend for a few years, but for some reason hadn't tried to Cabernet. Big, tasty and smooth, without being overly fruity or alcoholic tasting. Sells for $26, and better than many bigger name CA Cabs with bigger price tags.
Bench 2014 Pinot Noir – from Sonoma, this Pinot Noir is a nice change from some California Pinots that just get bigger and bigger in style and potency. Light colored and on the delicate side, this wine still brings nice strawberry fruit without too much tart, and a nice finish with hints of spice. Arrowine sells for $22.
Ravenswood 2015 Moscato – this wine is flat out delicious, a party of fruit flavors on the palate. Gabriele received this wine as part of her quarterly club shipment, and I was immediately instructed to purchase more off the Ravenswood site. It's a big style Moscato with loads of honeysuckle and apricot fruit, a slight effervescence and with just enough acid to keep it from the dessert category. Ravenswood sells for $24 off their web site.
I also have to unfortunately share a recent disappointment. I've written more than once here about how much we enjoy the Gundlach Bundschu Pinot Noir. It's been a consistent favorite, but the 2014 is very different than previous years. No where near as flavorful or balanced than in past vintages. We're hoping the 2015 returns to the previous form.
Happy spring, and good quaffing!