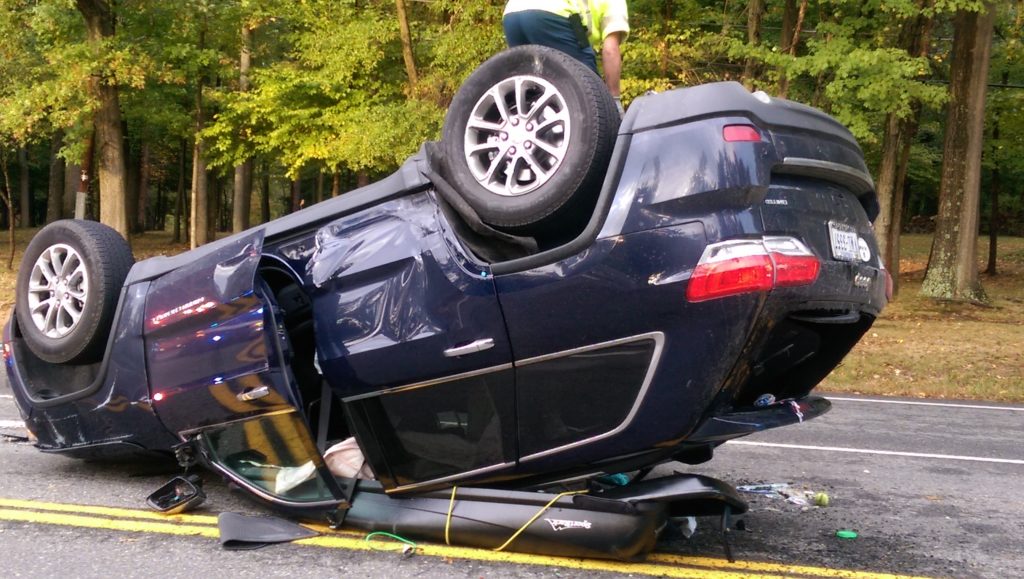 Coming home from vacation this weekend my wife and I were involved in an accident. Less than two miles from home, a woman pulled out from the Walker Gate of Fort Belvoir without looking and hit the side of our 2015 Jeep Grand Cherokee. The impact caused the vehicle to flip over and roll twice before coming to rest upside down.
We were incredibly lucky. Neither one of us was injured. We were able to unbuckle ourselves and get out of the vehicle, and get our two dogs out (also unhurt). Emergency personnel responded very quickly, and were very professional and courteous. A very kind woman and her two daughters stopped and helped watch our dogs while we gave our reports. Once we were cleared by the EMTs, I was able to retrieve most of our personal belongings from in and around the car.
The crash was a surreal experience. I remember seeing the car pulling out without stopping, the impact, my wife's scream and the sound of exploding glass. Then disorientation from the flipping, and coming to a stop hanging upside down.
The cabin of the Jeep Cherokee protected us in the crash. The side airbags deployed, and that plus the belts seemed to keep us in place. Two days later, Gabriele's shoulder is slightly swollen and I've just some bruises and soreness. That's a testament to improved auto construction and to us having our seat belts on.
The other driver was also unhurt, as were children in the car. She was cited by the police for "inattentive driving," and there were multiple witnesses. Hopefully that will make the insurance claim process proceed smoothly. The car was a lease, so it will be mostly State Farm negotiating with Chrysler Financial and the other driver's insurance, USAA. I hope I won't have to fight to make sure we don't suffer financially.
The crash was an unsettling reminder that as much as we plan our lives, an alternative reality is often just an instant away. We're both still a little shaken by the experience and the vision of how things might have turned out differently. Live for today and plan for tomorrow, but never think you control everything.