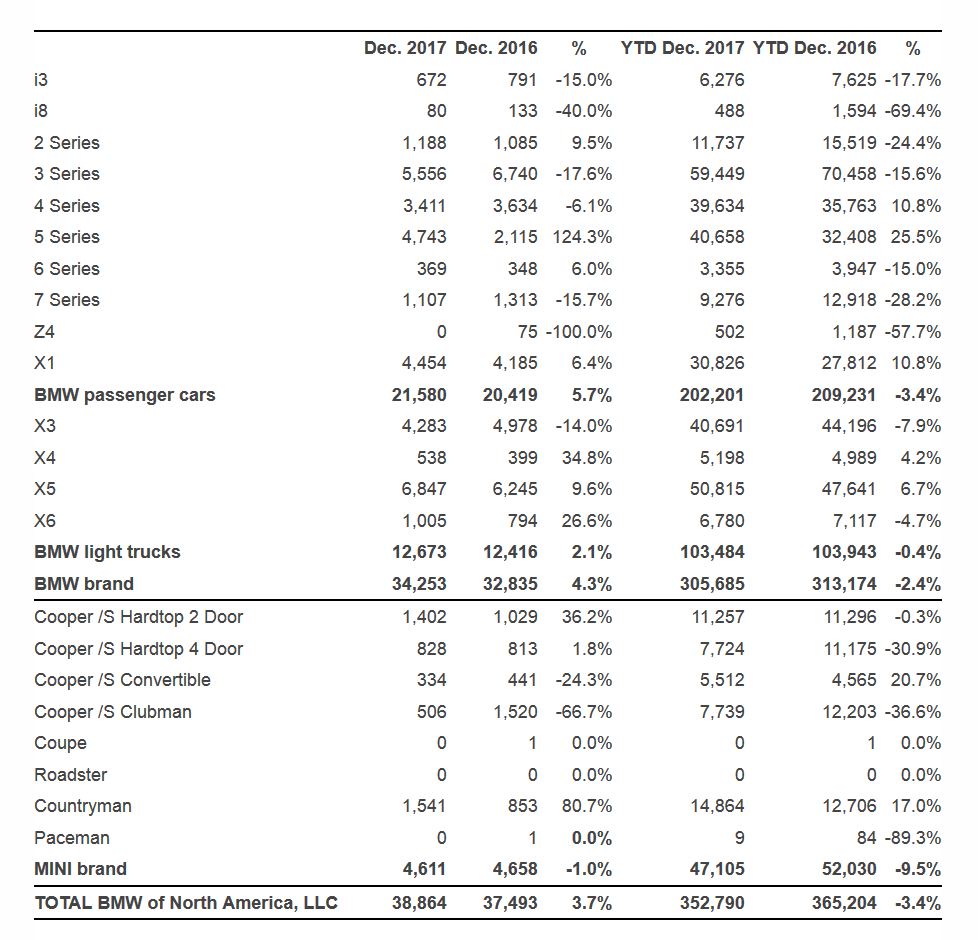 Final numbers are in for 2017 BMW sales in the U.S. For the first time since 2009, the overall automotive market in this country did not increase. The total number of new cars sold in North America went down, by 1.75 percent to 17.245 million vehicles. BMW brand sales were down 2.4 percent to 305, 685. (Worldwide BMW sales were up 4.2 percent.)
BMW CPO sales totaled 135,864, up 5.2 percent from 2016. Total used car sales were up slightly at 238,586, a 1.6 percent increase. Earlier in the year CPO sales were up strongly year to date, so they cooled off in the second half of 2017.
Mercedes-Benz kept the U.S. luxury crown it took back from BMW last year. Subtracting industrial van and Smart car numbers, M-B sold 337,246 vehicles in 2017, down slightly at 0.9 percent. Right up to the holidays it looked like BMW was going to get bronze this year, but Lexus sales tumbled almost 14 percent in December. Lexus ended the year down almost 8 percent at 305,132, just 553 vehicles back of BMW. Audi bucked the overall flat trend in this country, with record sales up 7.75 percent to 226,511 vehicles.
Here's a graphic from GoodCarBadCar.net showing market share as of April 2017: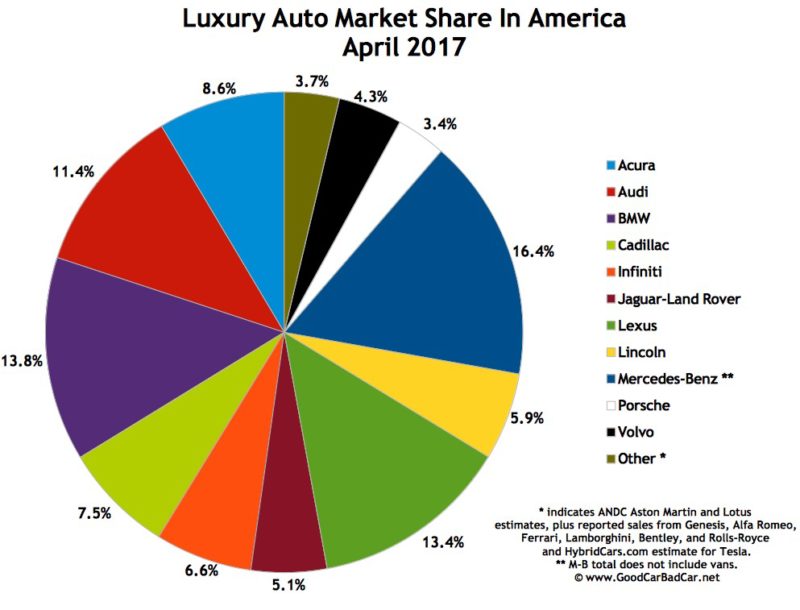 Looking at the 2017 model numbers, the new G30 5-Series sold well and boosted numbers in a critical category for BMW. For this year BMW has a number of new models in production, which should bode well for 2018.
The new G20 3-Series should be on sale by mid-year, and is key for BMW sales. Combining 3- and 4-Series sales, 2017 sales were off only 7 percent from 2016 but 30 percent from the 2015 total of 140,609 cars. (The 4-Series is BMW-speak for a two-door 3-Series.) The new model should reinvigorate this high volume BMW category that is vital for overall sales.
One out of every three vehicles BMW sells is now an SUV. To accommodate this American thirst for SUVs, BMW is hard at work on the next generation of the X5, designated Go5. Though sales increased year over year by almost 7 percent, many reviewers have the current F15 X5 being overtaken by competitors. The new model could be out before the end of 2018. And a first ever X7 model is in the works for 2019.
BMW is also introducing a brand new compact SUV model this year, the F47 X2. This new model (obviously) slots between the X1 and X3, supposedly providing a more sporty look and driving experience. Built on the same platform as the X1 and the Mini line, the new car should be for sale in a few months. BMW has unveiled concept cars that will evolve into a new, premium 8-Series car and a futuristic looking Z4 Roadster. These won't be high volume models, but could replenish some brand cachet.
Like last year's sales post, I'll update this one periodically as new numbers come in. 2017 BMW sales were respectable considering the competitiveness of the North American luxury auto market, the fact the overall market stopped expanding and the brand only having one major new model in dealerships. BMW can only control that last point, and it has multiple new models this year. (The new G01 X3 should be arriving at dealerships now, and production in the Spartanburg, NC factory is being expanded to increase supply of SUVs.)
Back in 2011 I wrote about BMW focusing more on China, where the company can sells cars with less competition and at a much higher price. Sales are down 12 percent since BMW's best year ever, selling 346,023 vehicles in 2015. China is already BMW's largest market, roughly 25 percent larger North America (as of 2016). I hope the new models coming out allow BMW to increase sales this year, and the company continues to prioritize this market when it comes to vehicle allotments and investments.