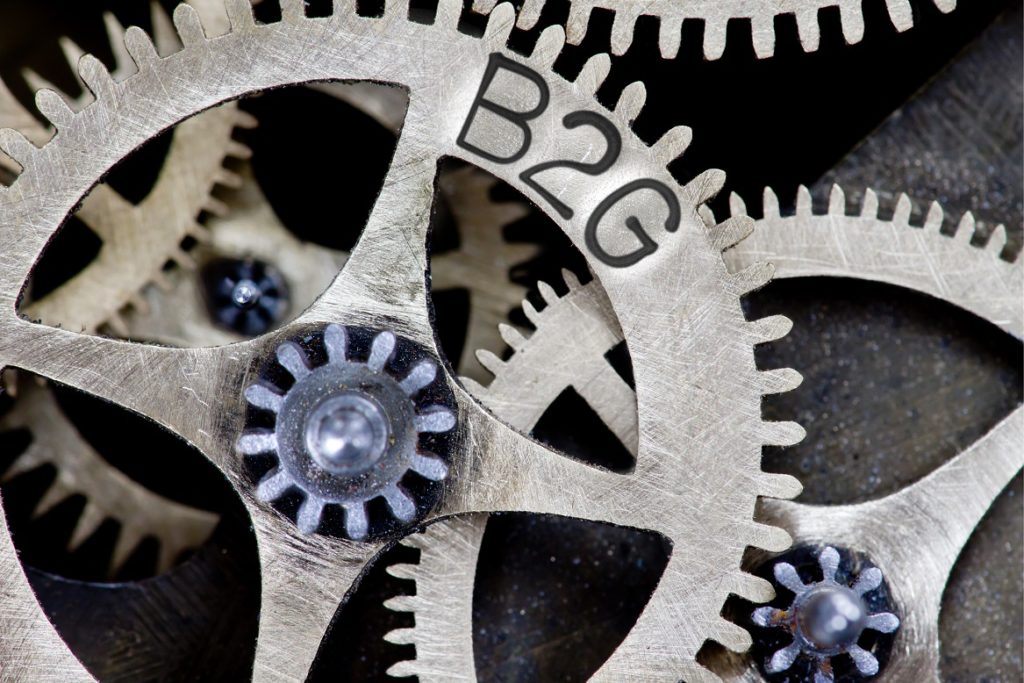 Recently the Government Marketing University reached out to me for a Q&A on business to government content marketing to appear in their newsletter. GMarkU is an emerging institution that applies a collaborative, community-based approach toward knowledge sharing and skills development in the field of public sector marketing. I've been involved since the early stages of GMarkU, and early this year became an adjunct professor at the organization.
Eventually GMU will offer training, research, certifications, mentoring, awards and community resources all in one place. This will enable students to learn, collaborate and accelerate their public sector marketing success. And in this way hopefully enable government to better deliver services to the public.
The Q&A on B2G content marketing appears below. If you'd like to know more about GMarkU, check out this promotional video – extra credit if you can pick me out in one of the networking scenes! And consider registering for or sponsoring the upcoming GAIN 2017 conference on October 13th in Tysons Corner, VA.
GMarkU: What are some new developments/players in the field?
Parente: The adoption of content marketing happened a bit more slowly in B2G than B2B, but has really come on in the past couple of years. There are so many more options now for government marketers looking for branded content! Established vendors in PR, event planning and social media all want to be full-service partners to clients, and they are leading with branded content services. Examples include MeriTalk, FedScoop and GovLoop.
Meanwhile, incumbent government IT publishers have no intention of missing out on the content marketing opportunity. They have responded by creating in-house branded content shops to address the needs of their advertising clients. Examples on that front include Government Executive's Custom Strategies group and 1105's 05 Group.
GMarkU: PESO model. What exactly is that?
Parente: Well, this is B2G so we have to have an acronym, right? But seriously, PESO is shorthand for classifying different types of marketing content. P is Paid (advertising), E is Earned (stories placed via traditional PR), S is Shared (ex. content promoted via social media), and O is Owned (branded content). More government marketers are understanding how important it is to view these different types of content holistically, rather than one-off efforts. Doing so ensures that the tactics are complementary and the messaging is consistent.
Some content blur these distinctions. For example, many of my clients engage StoryTech Consulting to place executive bylines in the federal technology trades. This can be a very effective tactic, because it combines the control of Owned content with the third-party validation that comes with Earned content.
The challenge, here and in most content marketing efforts, is to keep the editorial high enough so the trades welcome the content offered. Producing high quality content is not easy, especially in some government IT niches. It truly has to be journalism quality and provide valuable information to the reader — no blatant self-promotion allowed.
GMarkU: What's the role of analytics in the CM approach?
Parente: Obviously analytics are critical because at the end of the day, no one goes into content marketing to become a publisher. They do it because it's a proven way to support their business objectives. Effective analytics allows a company to connect content development into their sales funnel, tailoring content to those stages and creating a logical buyer's journey. Most of StoryTech's clients employ relatively long term nurture campaigns, establishing lead scoring to determine the best content to present to prospects.
More clients are also investing in analytics beyond Google Analytics. Google Analytics is a strong tool, but it's a free tool and cannot tell you a great deal about a specific visitor. Making a small investment in a tool that can connect IP addresses to specific companies can yield much clearer information about who you are driving to your site, where they are coming from and so forth. When we know more about visitors, we're in a much stronger position to develop content to support account based marketing, tailoring specific stories to specific prospects.
GMarkU: What developments might gov't marketers see in the next 12-18 months in the area?
Parente: I expect the competition in the market to continue to heat up, which should benefit the government marketer. Communications vendors and established publishers bring different skills to the table.
A communications firm turned news platform has a lot of experience working with clients on their messaging, and putting the client's interest above all. But are they good at journalism? The established publishers obviously have a great deal of experience in journalism — can they effectively serve the client while keeping editorial standards high? The winners in the marketplace will be the providers that can find the perfect midpoint.
Finally, I'd advise government marketers weighing potential vendors to watch out for the classic professional services "bait and switch." This seems to be happening more as the market has heated up. Throughout the sales process the prospect meets senior level staff with a great deal of experience. Too often, these are not the people who will be working on the account when the government marketer signs on the dotted line. Ask specific questions about who exactly will be executing on your behalf before you decide on your B2G content marketing vendor.