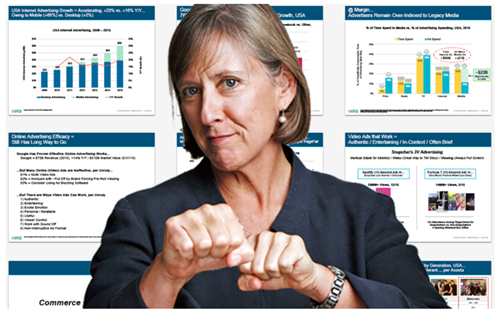 A few weeks ago Mary Meeker came out with her latest Internet Trends report. I've been writing about these for the past few years — here's a link if you'd like background on her or the report.
Some nuggets plucked out by Recode that I agree are interesting:
Global smartphone growth is slowing: Smartphone shipments grew 3 percent year over year last year, versus 10 percent the year before. This is in addition to continued slowing internet growth, which Meeker discussed last year.
Voice is beginning to replace typing in online queries. Twenty percent of mobile queries were made via voice in 2016, while accuracy is now about 95 percent.
In 10 years, Netflix went from 0 to more than 30 percent of home entertainment revenue in the U.S. This is happening while TV viewership continues to decline.
China remains a fascinating market, with huge growth in mobile services and payments and services like on-demand bike sharing. (More here: The highlights of Meeker's China slides.)
While internet growth is slowing globally, that's not the case in India, the fastest growing large economy. The number of internet users in India grew more than 28 percent in 2016. That's only 27 percent online penetration, which means there's lots of room for internet usership to grow. Mobile internet usage is growing as the cost of bandwidth declines. (More here: The highlights of Meeker's India slides.)
In the U.S. in 2016, 60 percent of the most highly valued tech companies were founded by first- or second-generation Americans and are responsible for 1.5 million employees. Those companies include tech titans Apple, Alphabet, Amazon and Facebook.
Healthcare: Wearables are gaining adoption with about 25 percent of Americans owning one, up 12 percent from 2016. Leading tech brands are well-positioned in the digital health market, with 60 percent of consumers willing to share their health data with the likes of Google in 2016.
This report remains one of the best examples of thought-leadership content. Meeker has maintained her personal brand over the years via this report, and I'm sure it contributes to brand awareness and business development for leads for KPCB. If it didn't, they wouldn't support it year after year.
Here's the report itself — watch out, now at 355 pages!