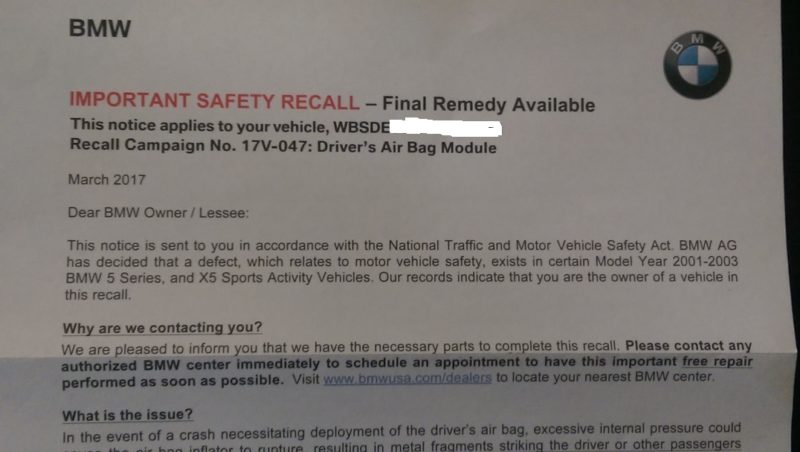 Last week I received a letter from BMW about the air bag in my 2002 M5. The driver side airbag made by Takata is potentially defective and they are instructing me to have it replaced.
I wrote about this issue at length last year, when I got a letter about my 2006 M3. The problem is that despite what the letters say, BMW sends them out before any replacement parts are available at dealerships. Last year I called my local dealership Alexandria BMW a few times, and was told they did not have the parts to do the replacement. Then they stopped calling back, and I got busy and put the issue aside.
Since then the problem and the recalls have continued to increase in scope. The Ur-article on the Takata recall is this one from Car and Driver, which has been regularly updated since 2014. The latest major development was at the end of February when Takata pleaded guilty to wire fraud in an attempt to cover up engineering defects in its air bag inflators.
Adding the E39 5-Series to the Takata recall list wasn't a big surprise, since it was believed the same air bag design went back that far in time. But it became official last month:
UPDATE 2/6/2017, 5:00 p.m.: BMW is recalling 230,117 cars in the U.S. that may have a Takata driver's-side airbag. The company said it is possible that 1 percent of certain 2000–2003 models may have had their airbags replaced with a Takata unit during a service visit, whereas originally these models used non-ammonium-nitrate airbag inflators made by Petri AG. BMW said it shipped 14,600 Takata replacement airbag parts to U.S. dealers between 2002 and 2015 but had no way of knowing how many were actually installed. While some of the recalled vehicles are already under recall, many are new to our list below, which has been updated. The recalled vehicles include the 2000–2002 3-series sedan, coupe, wagon, convertible, and M3; the 2001–2002 5-series sedan, wagon, and M5; and the 2001–2003 X5. Owners will receive notification in March. Dealers will check for and replace any Takata airbags they find.
There remains confusion over exactly when Takata air bags were added to E39 production. Some owners have received the recall letter, only to be told by the dealer that their bags were not made by Takata. Here's a thread from the Bimmerfest E39 community that highlights some of these stories.
This time I'm going to do my part and follow through on these repairs. Having had the poor experience at Alexandria BMW, I called BMW of Sterling. They don't have replacements for either car, but they promised to put me on a list and will contact me when they are in.
Hopefully I can update this post soon with the final resolutions.