This week Gabriele and I attended an Italian wine dinner at Riverbend Bistro, a favorite neighborhood spot. The theme was wines from Tuscany, including Castello di Poppiano, which was already a favorite of ours.
Our evening was made more special by being seated with the two presenters of the wines. One was the importer Brennan Downey of Downey Selections, who we met last year at another wine dinner. The other was Count Bernardo Calamai, the nephew of the current owner Ferdinand Guicciardini and heir to the Guicciardini estate. The Guicciardini family owns Castello di Poppiano, and has produced wine and olive oil on their land for centuries.
The food and pairings were excellent; there wasn't a dud in the bunch.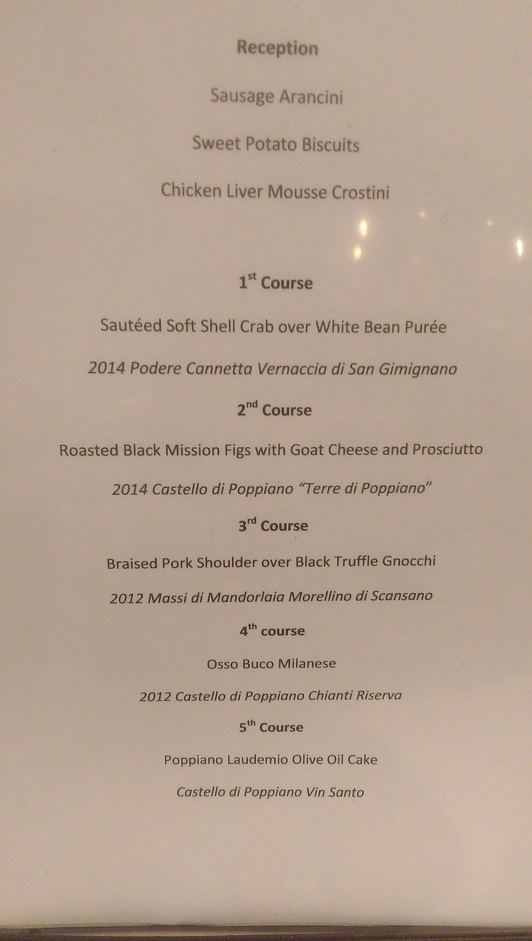 We're not big white fans, so the first Vernaccia didn't wow us. It seemed well made and light, with a bit of minerality on the finish.
The 2014 Terre di Poppiano was a nice Chianti. It was 85 percent Sangiovese and the balance Canaiolo, with a nice bouquet and easy drinking body. Bernardo described it as the "entry-level" Chianti, but I'd say that describes the $16 price more than the wine itself.
The next red was the 2012 Massi di Mandorlaia, Morellino di Scansano. This wine is from the Maremma region, in the southwest of Tuscany on the coast. The Guicciardini family purchased the land in the late 1990s. This wine is also 85 percent Sangiovese, with the remaining 15 percent Alicante. Alicante is a cousin of Grenache and is sometimes added to California Zinfandels in this country. This wine was full bodied, with a lot of black cherry mixed with leather and earth.
The 2012 Castello di Poppiano Chianti Riserva was already a favorite of ours. It's a very nice wine, smooth and rich by Chianti standards. It's also 85 percent Sangiovese, but here the balance is made up of Cabernet and Merlot. It's a good alternative to a Brunello from nearby Montalcino at a much lower price point.
The meal concluded with a delicious olive oil cake prepared with olive oil from Castello di Poppiano and the vineyard's Vin Santo, "holy wine." Made from the white wine Malvasia in a sherry style, it was nutty and tasty. I don't usually like sherry, but this wine was a nice digestif.
After the meal we ordered some bottles of our favorites, along with a bottle of the delicious olive oil. Next time you're buying Italian, I'd recommend you pick up some wines from the Guicciardini family as well.