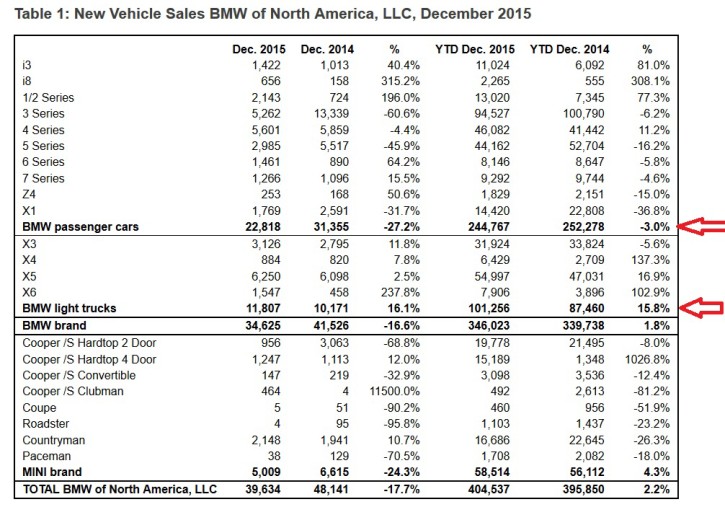 Final 2015 BMW sales are out, and the company has retained the number one spot for U.S. luxury car sales with 346,023 vehicles sold (not including the Mini brand). BMW had a horrible December with sales down 16.6%, and that almost allowed Lexus and Mercedes-Benz to snatch the crown. Only a few thousand vehicles separated the three companies.
When I last wrote about BMW sales in July, sales were up 7.1% year to year. 2015 BMW sales ended up 1.8% over 2014, which still was a record year for BMW. What's really surprising to me is the fact that sales of BMW cars actually fell in 2015 by 3%! The company grew due to light truck sales increasing by 15.8%. This is unprecedented and highlights how reliant BMW has become on truck sales in the U.S. market.
In previous years the overall sales growth mapped to car growth. In 2012, total BMW sales grew 13.5% and cars increased 12.5%, in 2014 it was 9.8% overall and cars 8.1%. Trucks represented almost 30% of total 2015 BMW sales.
Some of the drop in car sales could be due to older models in high volume categories. The F10 5-Series was introduced in 2010 and was down 16% from last year. The new generation car is due in 2017. The mainstay 3-Series was introduced in 2011 and was down 6.2%, and is receiving what BMW calls a Life Cycle Impulse (what any other car maker would call a styling refresh) this year.
The X3 light truck is also due for a new model in 2017, with sales down 5.6% this year. But that was more than made up by record breaking X5 sales, up 16.9%. M car sales were up strongly and totaled 14,504, but as you can see from the numbers these enthusiast vehicles are a tiny fraction of BMW's overall sales. Growth of the electric i3 was encouraging at 81%, but it will be years before those vehicles make a meaningful dent in annual totals.
The X1 crossover has to be seen as a major disappointment. It sold strongly when first brought to the U.S. market in 2013, having been in other markets since 2009. But the E84 model sales dropped 14% in 2014, and the new, more traditional looking F48 isn't selling, with sales down 36.8% in 2015.
BMW's Certified Pre-Owned (CPO) program performed well, up 12.5% in 2105 to 115,903 vehicles including trucks. That could have had enticed some would be new buyers, although a strong CPO program raises residual values and keeps leasing more affordable, thereby supporting new car sales. Total used sales were 187,169, up 5% from 2104.
New car cost could be a factor – according to Car and Driver, the average cost of options on a BMW 3-Series is $10,456, and it's $12,401 on the average 2-Series, the supposed "entry model" into BMW ownership. It's extremely difficult to buy a car at the dealer that isn't loaded up with options, some of which the buyer probably would rather do without.
BMW has increased sales in the U.S. every year since the Great Recession year of 2009. That's an impressive achievement for an independent car company in the ultra-competitive North American market.  However, all the luxury competitors have grown their sales as well – Lexus was up 10.7% in 2015, Mercedes 3.8% and Audi was up 11% (202,202 vehicles sold).
Here's a graph that tracks Audi, Mercedes-Benz and BMW market share growth. Note — big mistake in the 2014 MB numbers, they sold 330,391 vehicles that year not 230,391.
So what to make of 2015 BMW sales? One thing seems certain – BMW can't keep pace in this race if car sales don't rebound strongly. There's only so much it can rely on its light trucks. Other brands like Lexus and Porsche also saw car sales lag vis-a-vis their light trucks, but those brands are pieces of larger corporations with deeper pockets that can absorb slow moving models more easily.
Let's hope December was an anomaly, and the coming new generation of bread and butter lines like the 3-Series and 5-Series make the company less reliant on trucks. The global title for top luxury car brand is still TBD – those numbers should be out next week. (Globally BMW sold 2,247,485 vehicles, up 6.1% from last year and beating both Mercedes-Benz and Audi).
In the meantime, the beneficiary of this fierce competition is the educated buyer.
Update 2/14 – January sales saw BMW drop behind Audi and Mercedes globally. January BMW sales in NA were down 4.7% year to year.
Update 3/9 – Automotive News reports BMW helped 2015 sales by pushing dealers to purchase new loaner vehicles.