Content marketing means different things to different clients. There are consistent threads in StoryTech Consulting content marketing campaigns — for example, understanding of the target audience, a commitment to top quality content and integration with the client's sale process are typical elements. But there are a number of different tactics we can employ, based on each client's specific needs.
Many campaigns involve launching a branded client publication. One of our major 2015 initiatives has been the design, launch and ongoing content development of WorkSpace Today for Polycom's Enterprise group. WorkSpace Today is an online publication that extends Polycom's thought-leadership and supports enterprise sales.
The branded publication educates the B2B enterprise market on the productivity and performance benefits of collaborative technology embedded into distinct business functions – HR, Sales, Finance, etc. See the front page screen shot above, and you can check WorkSpace Today out here.
For another client focused on the public sector there was a need for a very specific account marketing program. They wanted a "reach the influencers" program that near term would create thought-leadership content for the sales team to leverage. Longer term, the relationships created will lead to senior level qualified leads.
For this client we took an editorial approach, zeroing in on states and cities that were leaders in leveraging Open Data to deliver innovative services to citizens. We approached not with a sales pitch but with interview requests, looking to feature successful city and state level Open Data efforts. Then we created a branded podcast channel to house the interviews we secured with senior IT officials.
This podcast with Stephen Elkins, CIO for the city of Austin, Texas is a good example of the type of influencer were we able to connect with on behalf of our client.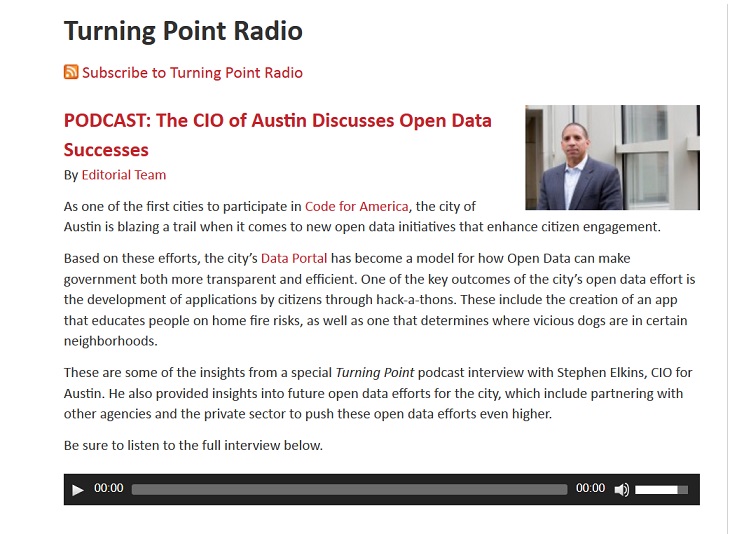 At StoryTech we're advocates of the integrated PESO model of content marketing — Paid, Earned, Shared and Owned. All the content created and promoted needs to be complementary. We spend most of our time in the Owned category, but this year we've gotten more involved with the paid component, running campaigns to promote client content on Twitter, Facebook and LinkedIn. Here's an article I wrote about some initial lessons learned about advertising on these social media platforms.
One of the simplest types of content marketing can be highly effective — the placed byline. This tactic combines total message control with distribution to a valuable, third-party audience. So in effect the placed byline is a hybrid of the earned and owned content categories.
Of course you need to know how to sell the story idea to the publication, and execute on a top notch editorial. But it's often the most accessible and easiest to grasp type of content marketing. Clients want media stories placed, but they also want to control the message.
They get positioned as thought leaders, and there is no risk of a "gotcha" question or a negative story. As long as the content educates the audience rather than trying to sell to it, the targeted publication rarely changes a word.
Here's an example — a client subject matter expert discussing the ramifications of the recent FITARA legislation.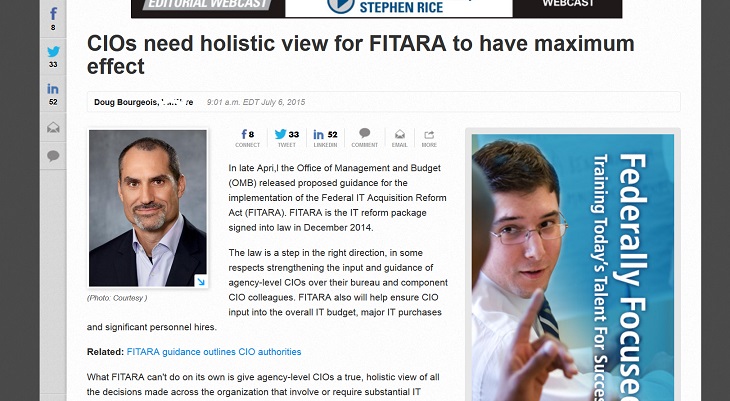 If you're selling a B2B or B2G product or service, the way you need to communicate with customers and prospects has changed. You need to educate first, sell second. Content marketing encompasses a number of proven tactics that can get the job done,  and can be tailored to specific client needs.