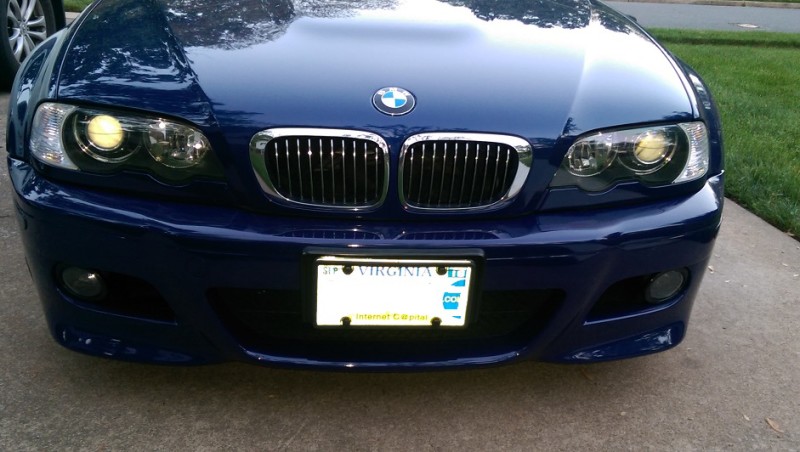 This past week I took care of some needed items on my 2006 E46 M3. Since I purchased the car late last year, I've looked forward to getting the front bumper repainted and a few other cosmetic issues attended to.
The front bumper needed to be repainted because it had rock chip pitting, clear coat peeling and some spider webs in the paint. It took me some time and research to decide which shop was best for the job. After getting a first hand referral from a neighbor and fellow car enthusiast, I went with Cherner Collision at their Tysons Corner location. (Cherner's seven DC area locations were just purchased by Caliber Collision).
I'm glad I made that choice. The color match looks great, and Cherner went the extra customer service yard for me. When I picked up the car, I noticed there was still a bigger fender gap on the passenger side. I had asked them to correct this when they installed the repainted bumper. They told me the brackets were worn, but if I wanted to purchase new ones they would remount the bumper for me.
So I did, and they did. The brackets were inexpensive pieces of plastic, and with them installed the bumper is a match on both sides.  I really appreciated them working with me and reinstalling the bumper. I'd recommend anyone needing body work to check them out. They are located right next to the Aston Martin dealership on Leesburg Pike in Tysons.
With the big job done, I took care of a few smaller issues as well. One of my front corner lights was cracked, and I replaced it with a new one. I don't like how the amber reflectors looked on the sides of the bumper, so I purchased and installed Interlagos blue painted inserts. And I upgraded the fog light bulbs with "High Performance Xenon 2.0" bulbs from Hella. That's marketing speak for sure, but they are noticeably brighter.
This car is in mint condition mechanically, and it feels good to bring the appearance back to where it should be.