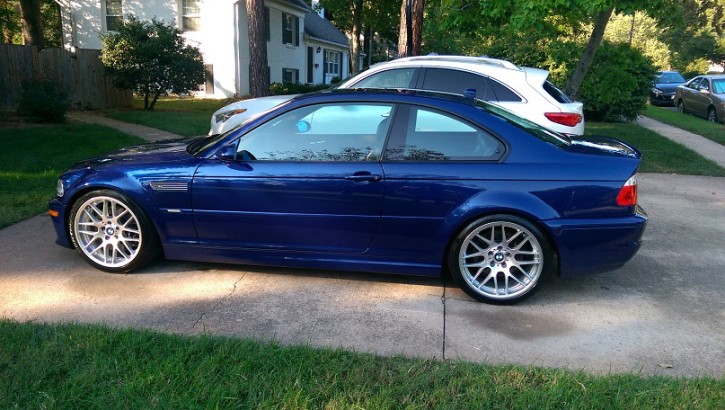 Late last year I purchased a 2006 E46 M3. It was maintained extremely well, but there were a few things I looked forward to doing on the car. Now that the long winter season is over, it's time to get to work.
This weekend I changed the oil, swapped the tires side to side, checked the rotors and pads and inspected the underbody with the car up in the air. Thanks to detailed maintenance records, I know the car had a full tune-up (Inspection II in BMW-speak) 15,000 miles ago, along with a new clutch, alternator and recent valve adjustment.  The car also came with a new coilover suspension from Fortune Auto.
There are a few cosmetic issues to address. Soon I'm having the front bumper resprayed, and I'm looking forward to posting those pictures. There are also some scratches on the car, which I've been tackling with the Quixx scratch kit.
I haven't tried the wet sanding approach needed for scratches through the paint, but I've had success with some lighter scratches on the driver door and roof. It's not quite as magical as this promotional video would suggest, but I'd definitely recommend the Quixx kit.
The E46 M3 is a classic car, one that the car magazines still regularly reference 15 years after the car was introduced. I'm going to enjoy keeping it in top shape.