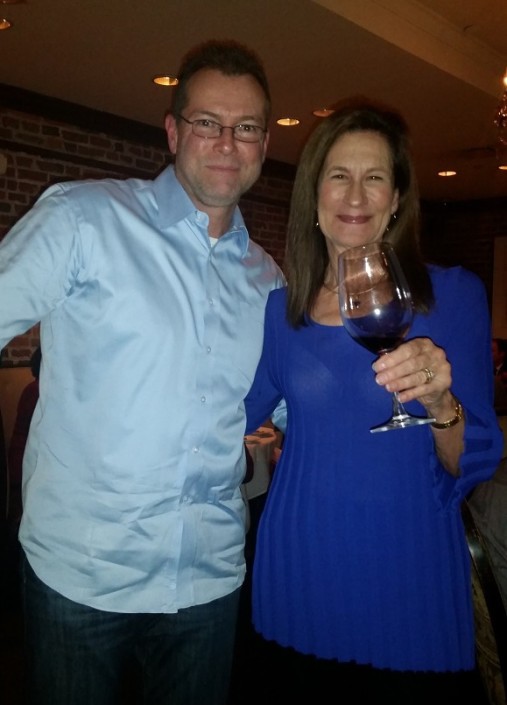 Last week Gabriele and I enjoyed a special wine dinner event. Merry Edwards, one of the most respected and recognized producers of California Pinot Noir, was in town and attending a dinner featuring her wines. The event was held at La Bergerie in Old Town Alexandria.
Merry Edwards was a pioneer in producing high quality Pinot Noir in California, and is still one of only a few women running her own vineyard. I talked about her views on the evolution of California Pinot Noir in one of my WashingtonExec wine columns in 2013. Merry was very accommodating and made time to chat with each table.
La Bergerie is a quality French restaurant that has been around a long time. It was a perfect setting for the event. There were hors d'oeuvres and five courses, each with a splash of a different Merry Edwards wine. La Bergerie did a good job matching the food courses with the wines. Standouts were the giant sea scallop with bacon and a sea urchin sauce (Chardonnay Olivet 2011), the steamed clams with lentil and chicken liver sauce (Pinot Noir Russian River 2012) and the Peking duck French style (Pinot Noir Meredith Estate 2009). One course decisively confirmed the fact that neither of us like foie gras, but it was served with a very enjoyable 2012 late harvest Sauvignon Blanc.
I've read that the 2012 growing season in California was almost perfect, so I was surprised by how restrained the Pinot Noirs were. They were almost too soft for my taste. The 2012 Russian River started out with a creamy, buttery nose that did not follow through in the wine at all. It was a bit tart and then there wasn't much else there. The 2012 Pinot Noir Klopp didn't have such a deceiving nose but was very similar, with just a bit more fruit. The 2011 Pinot Noir Georganne started to be more assertive, with some depth and character.
The final Pinot Noir of the night was the best, the Pinot Noir Meredith Estate 2009. For me it achieved a sense of depth on the palate while still being light-bodied, with nice raspberry fruit and hints of licorice and earthiness. It was the only wine poured that struck me as complex. Unlike the other wines served it was not available for sale after the dinner, and I think it retails for about $75.
It was a very enjoyable evening without a doubt. Some of the wines I didn't particularly enjoy cost $60-70, due to the respect and brand Merry Edwards has built over the years. Based on these tastings I'd say that for California Pinot Noir in the $30-50 range, there are better cost to quality options. When you're buying a special bottle of Pinot Noir however, I'd highly recommend the Meredith Estate.