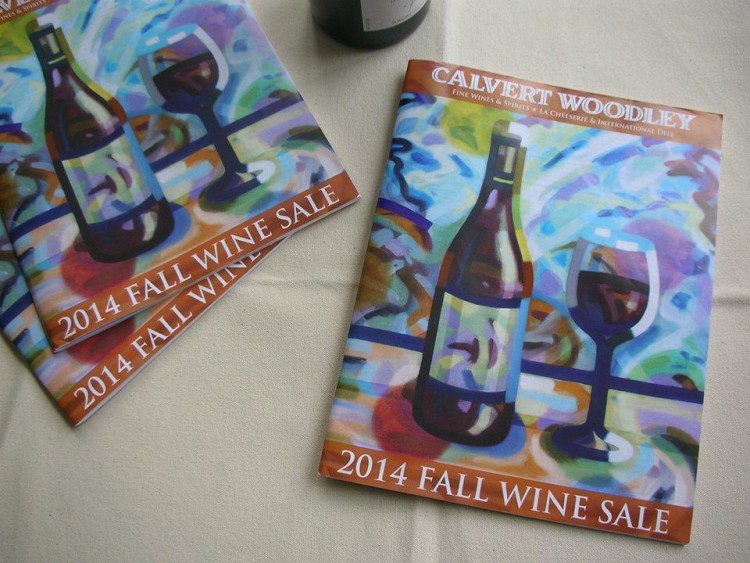 Having grown up in Connecticut, I've always loved fall. One fall tradition I really enjoy here in the greater Washington, DC region is the Calvert Woodley fall wine sale. When the weather turns cooler, I know their impressive catalogue will soon be arriving at my door.
More than just a listing of sale items, it's chock full of information for the wine novice and enthusiast alike. (Here's a link if you're not yet on the mailing list – warning it's 96 pages.) You can check out my post from last year for a listing of my 2013 favorites.
Just in case you don't have time for 96 pages, here are some important takeaways this year:
Bordeaux – 2011 and 2012 were good years overall, not up to the incredible back to back vintages of 2009 and 2010.
Rhone – 2012 was a good year overall, not as fruit forward as 2009 and easier to drink early than 2010.
California – the 2012 growing season was practically perfect, producing very powerful Cabernets and Pinot Noirs. By new world standards, 2009-11 were cooler and make for more Eurocentric style wines.
Oregon — 2012 was also a great year for Pinot Noir in Oregon, with quality more uniform than 2011, which had lots of rain in some areas.
Of course these general guidelines barely scratch the surface of this year's catalogue.  Here's a short list of staff  favorites I'm planning to stock up on:
2010 Caronne Ste. Gemme – Haut-Medoc Bordeaux, consistent star of the petit chateaux. Word is spreading about this left bank bargain, with Robert Parker giving it 90 points. Get some now at $22 before the prices increase.
Ken Wright Cellars Willamette Valley 2012 Pinot Noir – Calvert Woodley staff rave about this wine, made from many of the same grapes as the Ken Wright single vineyard wines at a fraction of the price. CL is offering it for $25.
Accordini 2009 Ripasso Valpolicella – I wrote about this wine earlier this year, and I'm looking forward to getting more of what my wife called "the best Italian wine I've ever had." Don't think you'll find it anywhere else for just $20.
2012 Domaine du Bouscat – CL has steered me towards many enjoyable petit chateaux Bordeaux, and I'm looking forward to trying this wine from just outside the right bank appellation of Fronsac. Described as loaded with lively red fruit with spice and cedar, at an almost absurdly low sale price of $12.
2010 Chateau de Segries Lirac Cuvee Reserve – I've enjoyed other Segries wine, and we like Lirac in general. Located just across a river from Chateauneuf-du-Pape, this wine is described as close to the same experience at a third the price.
2012 Produttori del Barbaresco Nebbiolo Langhe – 100% Nebbiolo made from younger wines, so the wine does not have the big tannins of the typical Barbaresco and can be enjoyed now at a $20 price point.
2102 Wild Horse GSM – from central California, a Rhone Ranger from the new world from a producer who made their name from their Pinot Noir. Available for $16.
That's what I'm thinking now — I'm sure there will be more when I get there. With a store like  this, it's no wonder Washington DC is number one for wine consumption per capital in the country. If you've never been, definitely worth a visit this holiday season.