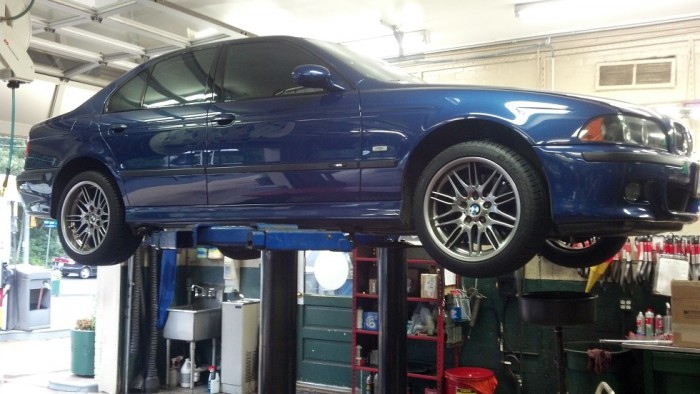 This past weekend I gave my 2002 E39 M5 a thorough inspection. I also changed the oil and swapped the tires side to side to even out the wear.
All the fluids were changed last year, so I knew I was in good shape on that front. I've now owned the car for over three years, and wanted to take a good look under the car – suspension bushings, brakes etc. Happily everything looked good and tight. I had the rear upper control arms replaced last year.
The nicest surprise was the large amount of brake pad remaining. I've put on less than 20,000 miles since buying the car in 2011, but I thought those might be due for a change. It's probably a little hard to see from the picture below, but they definitely don't need to be replaced yet. The previous owner installed new European two-piece rotors on the car not long before I bought it, so I knew those didn't need replacing.
I spent most of my time on the little stuff — brushing rust off the wheel hubs and putting some anti-seize on, cleaning off the calipers. For the calipers to look decent I should paint them, but they would need to dry for 24 hours and I don't have the time right now.
E39 M5s have a reputation for being very maintenance intensive, and therefore expensive to own. But you can save a lot of money and enjoy the ownership experience a lot more by DIY'ing the simpler stuff. This car is a classic, one the car mags continue to reference with regularity, and I want to keep it in top condition.
Speaking of E39 M5 references, check out how Motor Trend heaps praise on the ultramodern BMW i8 super car:
We recently spent some time on track with the new BMW M235i. Motor Trend's captive racer Randy Pobst commented, "This is the best BMW I've driven in ten years." That's one hell of a statement. I mention this because after spending a day inside the new i8 it could be the best BMW I've ever driven. If not, then it's the best since the E39 M5. Sticking with the superlatives, I feel the Roundel brand's new $136,625 3-cylinder, carbon-fiber, plug-in hybrid sports car is the most important BMW of all time.. How's that for overselling it?

How's that indeed! For those of us who don't need hybrid engine systems and a $136,000 price tag, the E39 M5 continues to be the yardstick of BMW excellence.
Other stories you might like:
E36 M3 Checkup This weekend I gave my 1999 M3 a thorough checkup. The car is running great...
E46 M3 Spring Checkup Late last year I purchased a 2006 E46 M3. It was maintained extremely well, but...
Excellent Pinot Noir for Summer With DC firmly in the grip of the dog days of summer, Pinot Noir is...