This past weekend I completed a repair project for a rear wheel on my 2002 BMW M5. In this post from late July I explain how I bent and cracked the wheel.
Initially I was thinking replacement rather than repair. I knew color matching was going to be a problem, due to the shadow chrome finish on E39 M5 wheels. It's a mixture of black, silver and clear coat and can vary in shade. Even if you buy brand new from the factory, there is no guarantee they will match. However, I had purchased refurbished wheels previously from AllFactoryWheels for my M3 and been pleased with the color match, so I gave them a try again.
Unfortunately the wheel I was sent was much more silver in appearance than my other three wheels. It wasn't even close, as the picture below shows. That was disappointing, although I'm happy to report the return process was easy and AllFactory refunded me in full. Still I was back to square one and stuck with my donut spare on the car.
I hadn't considered repair at first. But when I called a company called Kwicksilver in Alexandria they said there was one shop (and only one shop) in the metro DC area they would recommend, H & H Machine Company. Located in Capital Heights, MD, they were craftsmen who really knew what they were doing and handled all of Kwicksilver's customers who needed welding.  I drove up there, talked to Bill the owner and got a fair price quote. The next day my wheel was no longer bent or cracked. See below for the quality job.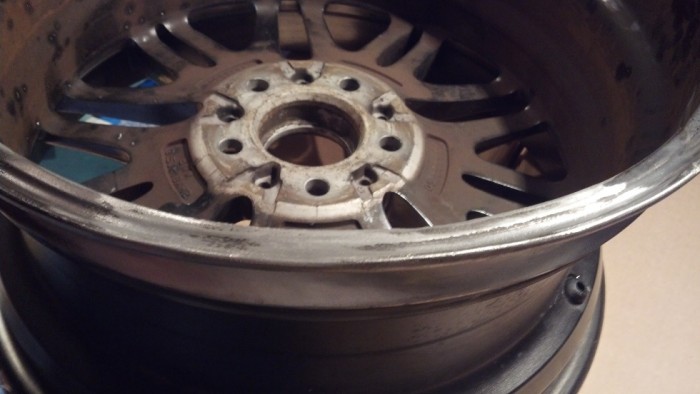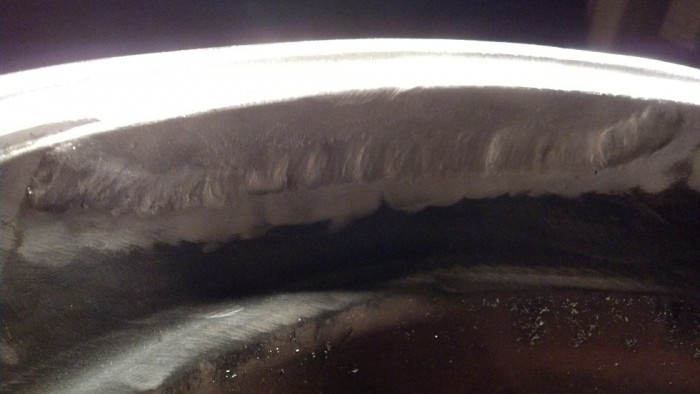 I wasn't quite done, however. When I went to my local service station Hollin Hall Automotive to have the tire mounted and the wheel balanced, it came back marginal and out of round. Hollin Hall uses the Hunter Road Force balancer, the best and most sensitive available. The wheel was sound and there wasn't a safety issue, so they put it on my car. But they told me I'd feel a vibration at highway speed.
I did. It wasn't horrible but it was there. So I called Kwicksilver back to see if they had any other ideas. Chris told me to bring it by for him to take a look.
Kwicksilver doesn't weld, but they do fix bent wheels. When Chris put the wheel on his machine, he confirmed it was slightly out of round, and he fixed it. He guessed it might have gone slightly out of round at H & H due to the heat of the welding.
A quick drive on 495 confirmed no vibration at all. Problem solved at last!
Chris also knew how to mix the paints for shadow chrome. So since I was there anyway, he also touched up two small gouges in a front wheel I'd been meaning to get fixed, for a very fair price.
This whole process took longer than I would have liked. But I saved a lot of money compared to going refurbished, and even more compared to buying a brand new wheel.  Had it not been for the shadow chrome issue, I probably would have simply purchased a new wheel. The only thing I haven't done is return to Hollin Hall and get the wheel checked again on the Road Force machine — I'm curious to see what the readings come out as now. I'll update this story with that information when I get it.
If you're ever in a similar situation, you may want to consider repair. If you do, make sure you're dealing with a company that knows what it's doing. In this area, I'd definitely recommend Kwicksilver (the Eisenhower Ave. franchise) and H & H.
UPDATE 8/31: Confirmation of success — testing again on the Hunter machine shows wheel and tire totally balanced.