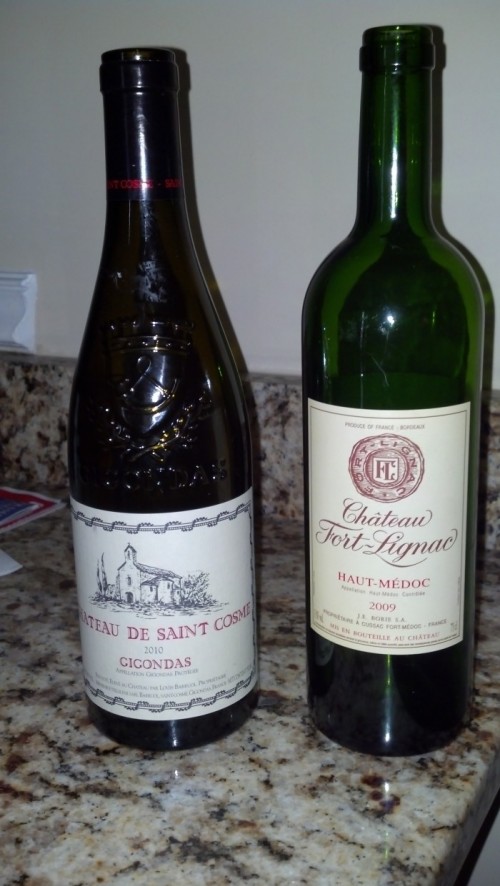 This past Labor Day weekend Gabriele and I tried two French wines with really strong reviews. One was a Bordeaux, and the other was a Rhone. One delivered as advertised, and one did not.
The Bordeaux was the 2009 Chateau Fort Lignac, from the Haut-Medoc region. This meant a Cabernet led Bordeaux, and a local wine shop we like really raved about the wine.
The chateau was owned by the well known Bordeaux family. The price point was fantastic — $20, and less if you bought six bottles or more. Could this be the mythical, good value Bordeux I've written about searching for in the past?
Unfortunately, in my opinion the answer is no. Here's what what was promised:
This excellent Haut Medoc has deep ruby/garnet color and gorgeous, rich, intense aromas of cassis, cherries, blue plums, crushed herbs, and violets. The flavors are opulent and velvet-textured with red currants and black cherries with hints of spice and vanilla. The finish is impressively long and the texture is all luxurious velvet. Everything's in its place from clean, pure ripe fruit, to suave spicy oak notes, to refreshing and not-at-all-harsh acidity, to rounded ultra-suave, supple tannins.
What we got wasn't bad, but the wine sure didn't live up to that. The color was deep for a Bordeaux. There is some earth and a touch of lead in the nose. It does lead with tart fruit, but its gone very quickly. There is a residue of minerals on the finish. Not a terrible wine, but there are many better experiences available at that price point. If you're looking for a good value second label Bordeaux, a better bet would be the Bouquet de Monbrisson Margaux we had with dinner out recently. But that wine retails for $30 or more.
The second Labor Day bottle was a more successful experience. The wine was the 2010 Saint Cosme Gigondas. I've enjoyed and written about Saint Cosme wine before, and both Robert Parker and the Wine Spectator ranked this wine highly.  So we didn't mind spending $39 for this bottle.
It was a truly delicious wine. It requires about a half hour of decanting or time in the glass, at first it comes on like gang busters. It has a deep, alcoholic and earthy nose with hints of clay and peat. The wine has big fruit, with black raspberry and boysenberry in the lead.
It settles down after a few minutes and becomes less aggressive on the palate. The finish lingers, with a pleasant tannic pucker. With this kind of performance and the kind of buzz the wine is receiving, don't be surprised to see this wine in a store near you.
Wine is subjective, and you're not always going to agree with reviews, positive or negative. The best course is to stay open minded, but know your own palate.