This weekend my 2001 530 got a lot of attention. It was a very productive day — a vibration issue related to new rims purchased in late April was finally resolved, and I replaced both front ABS/speed sensors.
Before I dive into the details, a word about owning a BMW out of warranty. Unless you have enough money not to care about cost, you need to educate yourself about your vehicle. And be open to learning what you can tackle on your own (DIY — Do It Yourself), and what you can't. Running to the dealership every time something goes wrong will land you in the poorhouse, and chances are you won't be treated very well. Dealerships don't want to deal with older cars, they want to focus on the people who will buy the new models.
Knowing what preventative maintenance is required to avoid problems in the first place is critical. That way when it's something bigger that requires professional service, at least you know the particulars and can be an educated consumer. Unless you're driving the car simply for the brand — in which case you'd probably be in a new car — embracing this fact can be fun. The car becomes a hobby, not simply a means of transportation. I've found a great deal of advice and support from Internet forums populated with folks who own the same cars, and run into the same issues. It's a perfect example of the "wisdom of the crowd" dynamic, enabled by Internet access. You can find the links in my blog roll.
So first up was a vibration at highway speeds. In a prior post I described buying new rims and tires for the car. I was very psyched to give the car this refresh. The previous owner hadn't bothered to clean or maintain the rims properly, and I needed to get my snows off the car for better handling: http://cparente.wordpress.com/2008/04/22/new-shoes-for-the-530/
Initially I was very pleased with the purchase. But I soon noticed that at highway speeds there was a significant vibration that hadn't been there previously. I knew the tires had been mounted and balanced properly. I had the work done at a garage right in my neighborhood I've used before and that comes recommended by Tire Rack. Hollin Hall Automotive provided great customer service and continued to work with me at no additional cost while I worked through this problem. A big public thank you to them, and I highly recommend the shop to anyone in or near the Alexandria area: http://www.hollinhallauto.com/
I won't go into all the arcane details. Monet was the company that made the rims, and I purchased through one of their resellers, The Wheel Connection. Monet was responsive via email, but it took some time for the problem to be identified. After eliminating other possibilities, it came down to the fact that the spacers sent with the rims were not fitting tightly enough, causing the vibration. Monet initially said it was the Wheel Connection's responsibility, and they said it was Monet's. I stayed patient, and persistent. Eventually Monet stepped up and sent me new spacers at no charge, as long as I returned the original set.
When they arrived I had my doubts, since they looked almost identical to the originals. But these snapped into the back of the rims beautifully, and have corrected the problem. Finally my car feels right at highway speed — solid and stable but with the driving feedback via the steering sport tuned BMWs are known for.
One issue down, and one new one to go. A couple of weeks ago an error code popped up on my display. My ABS system was out, along with something BMW calls Dynamic Stability Control (DSC). The two systems work together via sensors that monitor wheels speeds at all corners, applying breaking and reducing torque in a split section if wheel spin or loss of traction is detected. The car can be driven safely without these systems, in fact DSC can be turned off via a button on the dash. But clearly something was wrong, and I got busy with some forum research.
Thankfully there was a good chance it wasn't a major malfunction. Turns out those sensors at each wheel eventually fail — they get jostled constantly and debris tends to build up inside the sensor housing. If any sensor stops communicating with the car's on board computer, the lights kicks on. There is no way to know for sure which sensor without a special BMW diagnostic tool. But by reading the stories of others who have had this problem, and noticing that other things like speedometer and cruise were not affected, the likely culprit was the front right sensor. It's the one that kept coming up in discussion threads. Dealership quoted me $138 for the part — I found it online for $60 plus shipping.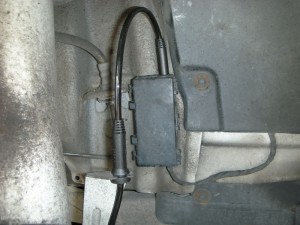 Compared with many of the guys on the boards, I don't know how to do much at all. Gary will continue to do most of the work on my cars. I have no illusions of ever being a mechanic or tackling complicated car projects.But it's a very satisfying feeling doing even small maintenance or repairs on a modern car, above and beyond the money saved. Part of the enjoyment comes from making sure my cars are in good condition. And it also connects me to a time when people were a little more self-reliant about these things, and our possessions weren't quite as disposable as they seem to be today.